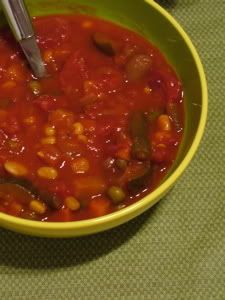 this is my second attempt at making up a vegetable soup/chili recipe. i don't really remember much about the first attempt except that i made waaaay too much and it was really spicy. it's been long enough since i made this that i'm not sure i remember everything. naturally i didn't write anything down. this version was much better than my first try; it's a lot thicker and the flavors are a lot stronger. i think next time i'll add some chili powder and beans and go for more a chili than a soup.
vegetable soup in the mini-crock pot:
1/2 bag of frozen vegetable soup mix
1 can condensed tomato soup
1 can diced tomatoes with sweet onions
garlic powder to taste
1 zucchini, chopped and quartered
basically i just dumped everything in the crock pot and let it do its thing overnight. the only way it could be easier is if you leave out the zucchini. for a thinner soup, you can add some water. i didn't add any because the water coming off of the thawing frozen veggies will temper the condensed soup a bit on its own.